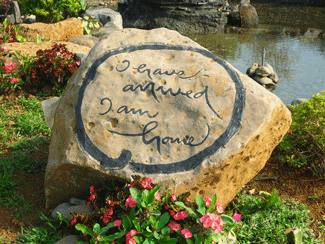 Newcomers are welcome. No experience needed. Please wear comfortable clothing. The floor is carpeted. We have a few extra meditation cushions and benches, as well as chairs.
We meet in Room 27 of the Education Building at Myers Park Baptist Church, 1931 Selwyn Avenue, Charlotte, North Carolina. The church is directly across Selwyn from Queens University. The Education Building is behind the main sanctuary. Park on the street or in the church parking lots. Click on the address above for mapquest directions.
Finding Our Room
NOTE: On Thursday evenings in the summer, please enter through the Cornwell Center as described in the second paragraph below. 
Enter the Education Building through the doors facing the back of the sanctuary.
Go right to the elevator or stairs. Go down to the basement. From the elevator, turn right and go to the end of the hall. From the stairs, make a left-hand u-turn out of the stairwell and go to the end of the hall. Room 27 is marked with its number and a sign that says, "Meditation." 

If the Education Building doors are locked, enter through the Cornwell Center. Go down the hall to the left to the Education Building lobby. Keep left around the circular room, Heaton Hall. As you pass the doors to the outside, continue with the initial directions, above.